Aids in China -- Book Release at the Library of Congress
Xiaoming Zhao, President, International Pubishing House for China's Culture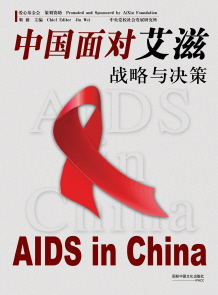 Director Dr. Lee, Dr. Weng, guests and friends of the media:
As a result of a joint effort between the Institute of Social Development Research at Chinese Central Party School and the AiXin Foundation in the United States and with financial support from the Aixin Foundation, Aids in China --- Strategy and Policy has been completed and published. The International Publishing House for China¡¯s Culture is greatly honored to be the publisher of this book.
The release of this book Aids in China is of great significance. Today, as a global challenge, the HIV/AIDs threat has aroused universal attention from all concerned people. This means that our interests can no longer be defined in term of individuals, regions or nations. Our future depends on cooperation at a global level.
Based on our shared beliefs, the International Publishing House for China¡¯s Culture and the Aixin foundation are proud of our partnership in this endeavor and in our future cooperation in the area of HIV/AIDS education. Our common goal is to strive for the achievement of peace, health, justice and prosperity. We are looking forward to working together again with the Aixin Foundation to fulfill these goals, and to ensure their implementation.
Our efforts are necessary to safeguard the future for our coming generations, and to help Chinese society in fulfilling its promise to contain and control the spread of AIDS by the year 2015.
We all know that China is facing a serious threat from HIV/ AIDS. In fact, China today is on the verge of an explosive aids epidemic. We understand that the Chinese government has focused its attention on the HIV/AIDS challenge and needs to convey to the Chinese people its determination and confidence in preventing and controlling this deadly disease. We are also fully aware how arduous a task it is to spread the awareness of aids prevention in China.
After today¡¯s ceremony, the AiXin Foundation will donate all 5000 copies of its first edition to universities and public libraries in China and these books will also serve as training materials for government officials of all levels. This action has received great attention and support from the Chinese government, non-government organizations and social research and preventive medicine institutes and groups. We wish them great success in their efforts and vision.
We expect that in the future China will not only advance its economic development and prosperity, but will also make significant progress in the area of preventing aids and ensuring public health. We also expect that China¡¯s efforts in these areas will win it the respect of the international community.