One Country, Two Systems: Reunifying Taiwan with the Mainland of China
Is there a true solution? One of Taiwan's greatest political thinkers says yes
-- from Editor of International Pubishing House for China's Culture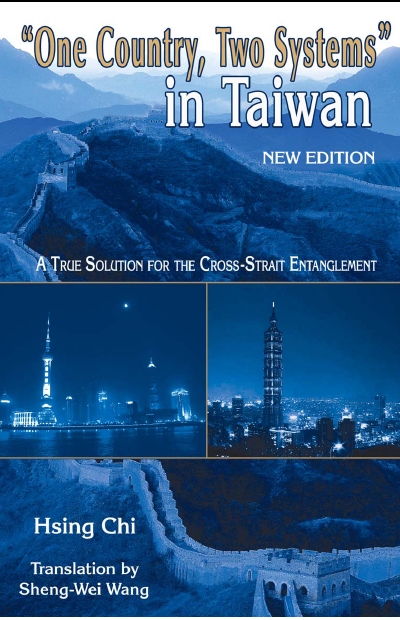 Prominent scholars pronounce the situation in Taiwan to be the "most dangerous ¡­in East Asia at this point." Is there a way to keep the peace, especially since Taiwan is the core challenge between Sino-U.S. relations?
Author Hsing Chi, whose book One Country, Two Systems in Taiwan: A True Solution for the Cross-Strait Entanglement, thinks that the solution lies in Taiwan's reunification with the mainland of China via implementation of the "one country, two systems" policy. The book is the first of its kind: written by a Taiwanese, translated into English by a Chinese American from Taiwan, and published in the U.S., to express this important political thought, which is highly practicable in Taiwan.
The policy, simply stated, is that in spite of the practice of socialism in the mainland of China, Taiwan can continue to practice capitalism under a high degree of autonomy for 50 years after reunification.
She says that the Taiwanese people can benefit from reunification in the following ways:

--A shared national defense means saving on military expenditures;
--The cross-strait economy would be an integral whole, complementing one another;
--The two sides would benefit from a fused labor force;
--Agricultural workers on both sides can exchange best practices techniques;
--Collaboration in the sciences, education, elder care, and technology.
As a person concerned with the future of Taiwan, Chi has paid great attention to the concept of "one country, two systems" since it was first proposed by Deng Xiaoping in the early 1980s. She knew that the concept was not yet popular in Taiwan, but she believes that as long as the political and economic trends continue pointing toward a decline in Taiwan while there is sustained growth in China, the need for reunification will only increase.
Since no better alternative has yet been proposed, "one country, two systems" is the only method that can succeed in giving Taiwan a high degree of autonomy while allowing the Taiwanese people to govern the Taiwanese people.
Chi also argues that "one country, two systems" guarantees safety of the Taiwan Strait because:

--The Chinese in Taiwan can continue to be Chinese;
--The current lifestyle in Taiwan can be maintained;
--The reunification of China can be completed;
--The core hindrance of Sino-U.S. relations can be eliminated.